Home
❭
News
❭ BLACK WOMEN'S ROUNDTABLE RELEASES ITS 5TH ANNUAL REPORT ON STATUS OF BLACK WOMEN, "TIME FOR A POWER-SHIFT"
BLACK WOMEN'S ROUNDTABLE RELEASES ITS 5TH ANNUAL REPORT ON STATUS OF BLACK WOMEN, "TIME FOR A POWER-SHIFT"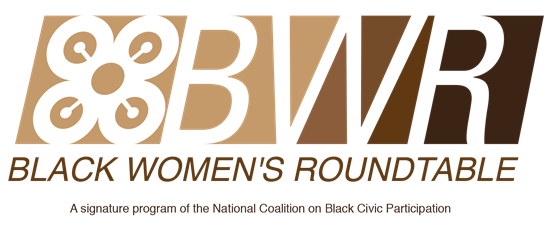 1050 Connecticut Avenue, NW
5th Floor - Suite #500
Washington, D.C. 20036
(202) 659-4929;(202) 659-5025 (fax)
www.ncbcp.org www.unitycampaign.org
Lon Walls at (301) 996-1669
lwalls@wallscomm.com
BLACK WOMEN'S ROUNTABLE RELEASES ITS FIFTH ANNUAL REPORT
ON STATUS OF BLACK WOMEN, "TIME FOR A POWER-SHIFT"
Report Sites Progress, Accomplishments, Potential and Challenges for Black Women in 2018
March 27, 2018 (Washington, DC) – On Wednesday, March 28th, the National Coalition on Black Civic Participation's (NCBCP) Black Women's Roundtable (BWR) will close out Women's History Month and Black Women's Week, by hosting a tele-briefing to release its Fifth Annual Black Women in the U.S. Report, which assesses the challenges, triumphs and overall contemporary condition of Black women in the United States in 2018. This year's report is entitled "Time for a Power Shift" and takes an in-depth look at the issue of power and exactly where Black women fall socially, politically, economically, spiritually and health-wise.
Key findings from this year's report include:
•
Black Women Shifting Their Power
•
When It Comes to Politics, the Power of Black Women is on the Rise
•
Electoral Successes Prove Black Women Can Win Anywhere
•
In 2018, Black Women Can Make Political History
•
Despite Gains, Black Women are Not Without Political Challenges
•
The Power of Black Women's Leadership is Significantly Curtailed in the Corporate World
•
Black Women Especially Vulnerable Within the Criminal Justice System
•
Black Women Immigrants and Their Families Have Been Uniquely Targeted in the Trump Era
•
The Power of Black Women's Push for Social Justice Remains
•
Black Women Are Still the Foundation of Black Family Financial Power
•
Entrepreneurship Seen as the Conduit to Greater Economic Power for Black Women
•
Black Women Venture Capitalists Flex Their Economic Power to Help Close the Venture Capital Funding Gap
•
Black Women Still Lack the Power to Live Free from Violence, Health Challenges and in Full Autonomy of Their Own Bodies
•
Black Women Lean on Spiritual Power to Make Magic Happen
Melanie L. Campbell, President/CEO of the NCBCP and Convener of the Black Women's Roundtable, states, "The annual BWR Report provides the NCBCP and Black Women's Roundtable with a vehicle to actualize our commitment to ensuring Black women and girls' voices and stories are elevated in the public sphere. This year, the report is laser focused on showcasing Black women's intergenerational and diverse leadership, expertise and unique perspectives on the issue of building and sustaining power to achieve a higher quality of life for Black women, our families and communities."
Dr. Avis Jones-DeWeever, the BWR Report's editor-in-chief, shares, "We find ourselves at a very precarious moment in our nation's history, and Black women understand what's at stake. They've stepped up in bold and tangible ways to not only be the drivers of change but to wield the levers of power themselves like never before."
###
The National Coalition on Black Civic Participation (NCBCP) is one of the most active civil rights and social justice organizations in the nation "dedicated to increasing civic engagement, economic and voter empowerment in Black America." The Black Women's Roundtable (BWR) is the women and girls empowerment arm of the NCBCP. At the forefront of championing just and equitable public policy on behalf of Black women, BWR promotes their health and wellness, economic security & prosperity, education and global empowerment as key elements for success.
Melanie L. Campbell, President/CEO, National Coalition on Black Civic Participation, Convener, Black Women's Roundtable
Dr. Avis Jones-DeWeever, Editor-In-Chief, 2018 BWR Report
Diane Babineaux, Vice Chair of the Board, National Coalition on Black Civic Participation, Retired, former Vice President, International Association of Machinists & Aerospace Workers (IAMAW)
Ebony Baylor, Special Assistant to Senior Vice President for Public Policy, National Urban League Washington Bureau, PhD Student, Howard University
Salandra Benton, Convener, Florida Coalition on Black Civic Participation/FL Black Women' Roundtable, Statewide Community Organizer, FL AFL-CIO
Ashlynn Boodhoo, Intern, Redwood Enterprise, LLC
Clayola Brown, President, A. Philip Randolph Institute, Board Member, NCBCP
Latosha Brown, Co-Founder, Black Voters Matter Fund, Board Member, National Coalition on Black Civic Participation
Khalilah L. Brown-Dean, PhD, Associate Professor of Political Science, Quinnipiac University
Autumn M. Butler, MPA, MSP, Executive Director, Pontiac Policy Council
Helen Butler, Executive Director, Georgia Coalition for the People's Agenda, Convener, Georgia Black Women's Roundtable
Kristen Clarke, J.D., President & Executive Director, Lawyers Committee for Civil Rights Under Law
Savannah Campbell, Intern, Black Youth Vote, Undergraduate Student, Albany State University
Karma Cottman, Executive Director, UJima, Inc: The National Resource Center on Violence Against Women in the Black Community, DC Coalition Against Domestic Violence
Vanessa Daniel, Founder & Executive Director, Groundswell Fund
Felicia Davis, Director, Building Green Initiative/HBCU Green Fund @ Clark Atlanta University, Convener, Clayton County Georgia Black Women's Roundtable
China Dickerson, Deputy Political Director, NARAL Pro-Choice America, Chair, Young Democrats of America, Women's Caucus
Lisa Fager, Vice President, Programs & Resource Development, NCBCP
Gretta Gardner, Deputy Director, Ujima, Incorporated
Gabriel Gray, National Coordinator, Lawyers Committee for Civil Rights Under Law
The Honorable Helen Holton, Executive Director, National Organization of Black County Officials, Inc., Former Member, Baltimore City Council
Letetia Daniels Jackson, President & CEO, Tandeka, LLC, Convener, Dothan Alabama Black Women's Roundtable
Lisalyn Jacobs, Owner & CEO, Just Solutions
Dr. Lorretta Johnson, Secretary-Treasurer, American Federation of Teachers, Board Member, NCBCP
Marcia Johnson-Blanco, Member of the Board, U. S. Human Rights Network
Ambassador Suzan Johnson Cook, Presidential Advisor, Pastor, Theologian, Author, Activist
Kerry Jones, Director, Service Employees International Union (SEIU), Racial Justice Center
Carolyn Joyner, Director, Labor Project for Working Families, Family Values @ Work, Chair, Black Women's Roundtable Public Policy Education Day on Capitol Hill
Nicole Lee, Esq., Founder, Lee Bayard Group, LLC
Decota Letman, Fellow, Black Women's Roundtable, Graduate Student, Howard University
L. Toni Lewis, MD, RYT, Family Doc, Geriatrician, Yogi, Health Equity & Social Justice Strategist
Tiffany Loftlin, Director, Youth & College Division, NAACP
Jacquie Hood-Martin, PhD, Executive & Christian Life Skills Coach, Author, Speaker, Trainer
Janice Mathis, JD, Executive Director, National Council of Negro Women
Kimberly Mitchell, Macy's Store Makeup Artist, UFCW Local 400 Shop Steward
Rev. Dr. Judith C. Moore, Executive Director, Sisters Saving Ourselves Now, Convener, Pittsburgh/Mon Valley BWR, Itinerant Elder Emeritus, AME 3rd District
The Honorable Stephanie Moore, Chairwoman, Kalamazoo Michigan County Commission, Convener, Kalamazoo BWR, Mothers of Hope
Acacia Newsome, Intern, Black Women's Roundtable, NCBCP
Pierrette "Petee" Talley, Secretary-Treasurer, Ohio AFL-CIO, Convener, Ohio Unity Coalition, Co-Convener, OH BWR
Elizabeth Powell, Secretary Treasurer, American Postal Workers Union, Board Member, NCBCP
Rene Redwood, CEO, Redwood Enterprise, LLC
Barbara A. Perkins, President & CEO, International Black Women's Public Policy Institute
Tameka M. Ramsey, BSW, MPA, Owner, T. Ramsey & Associates, Co-Convener, Metro Detroit Black Women's Roundtable
Elsie Scott, PhD, Founding Director, Roland W. Walters Leadership and Policy Center @ Howard University
Tinselyn Simms-Hall, Digital Media Manager, SEIU
Joycelyn Tate, JD, Managing Director, Tate Strategies, Senior Technology Policy Advisor, Black Women's Roundtable, NCBCP
Makani Themba, Chief Strategist, Higher Ground Strategies
Jennifer Tucker, Senior Policy Advisor, Black Women's Roundtable, NCBCP
The Honorable Sheila Tyson, Member, Birmingham City Council, Convener, Alabama Black Women's Roundtable, ACBCP
Robin Williams, International Vice President, Director, Civil Rights & Community Action Department, United Food & Commercial Workers, Board Member, NCBCP
Dr. Barbara Williams-Skinner, Co-Chair, National African American Clergy Network, President, Skinner Leadership Institute
FACEBOOK: Black Women's Roundtable
TWITTER: @ncbcp @ncbcp_bwr @blackyouthvote
INSTAGRAM: @thenationalcoalition