Black Women's Roundtable 6th Annual Report:
State of Black Women in the U.S. & Key States, 2019
"Centering Black Women & Girls Leadership and Public Policy Agenda in a Polarized Political Era"
Executive Summary
Black Women in the United States, 2019, is the sixth in an annual series of reports released by the Black Women's Roundtable, specifically developed to examine the overall conditions and concerns of Black women throughout the nation. This year's report uncovers where Black women stand, juxtaposed between a historic electoral season which resulted in record-breaking political representation and the beginning of a high-stakes Presidential race that includes an exceedingly diverse slate of candidates, including the third Black woman ever to launch a Presidential bid. In many ways, this historic moment seems to be one in which Black women are asserting their power like never before. Yet, they still face substantial challenges related to a wide ranging of deeply entrenched issues that have seen little movement over the years. This year's report takes a deep look at this dichotomy, and shares a multifaceted analysis of just where Black women are now, where we've been, and where we're going. The following is a selection of key findings: (please click image below)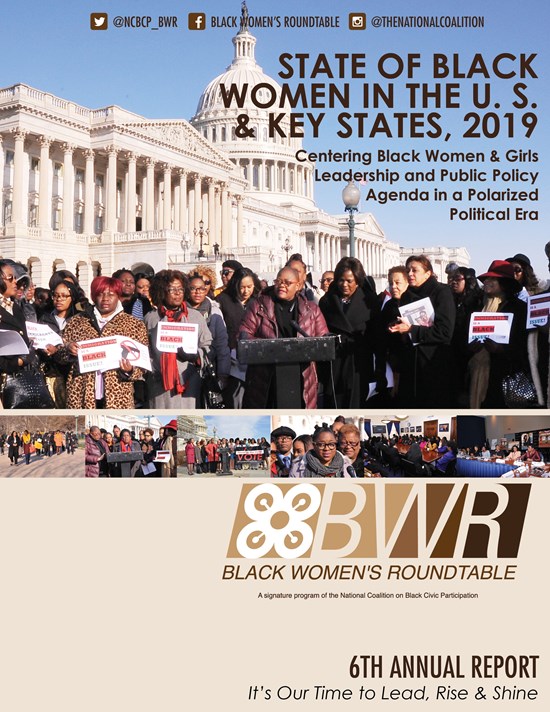 News
Wednesday, September 12, 2018 10:21 PM
---
Friday, September 7, 2018 12:00 AM
Black women went to the polls in record numbers last December to elect Doug Jones as the first Democratic senator from Alabama in 25 years. As of this week, 39 Black women are nominees for the U.S. House in the November midterms, including 22 women who aren't incumbents.
It's all part of an effort to reshape the politics of the Trump era when many Black voters feel threatened by the country's increasingly racially polarized climate, with concerns ranging from access to the ballot box to the president's hostility to protesting NFL players and the violent demonstrations last summer in Charlottesville, Va.
The Mississippi gathering was part of a stop on a tour across the Deep South organized by LaTosha Brown, co-founder of the Black Voters Matter Fund, which aims to increase political power in Black communities.
Brown said the time is now for Black women to lead again. She pointed to incidents like the attempt to close a majority of polling places in Randolph County, Georgia, last month, as proof of the need for the kind of continued vigilance Black women have long provided.
---
Friday, September 7, 2018 12:00 AM
Meeting on the campus of Jackson State University on a recent Friday afternoon, dozens of black women came together to strategize about the upcoming midterm elections, opening the gathering with a freedom song.
"The revolution done signed my name," they moaned, invoking the names of the ancestors whose strength has willed them to persevere: Harriet Tubman. Shirley Chisholm. Aretha Franklin. Two were like them, daughters of Mississippi: Ella Jo Baker. Fannie Lou Hamer.
"All of us who are in the room right now are midwives for transformation," said Rukia Lumumba, daughter of the late Jackson Mayor Chokwe Lumumba, and co-founder of the Electoral Justice Project.
---
Friday, September 7, 2018 12:00 AM
Headed into November, black female organizers are hoping to elect more African-Americans to power and not simply be a reliable voting block for white Democrats.
In Alabama, "black women were looked to, to bail out Democrats and the state from a very problematic candidate," said Glynda Carr, co-founder of Higher Heights for America, which focuses on electing black women and galvanizing them as voters. "Alabama was this tipping point around black women's leadership, when we woke up to our Twitter feed going crazy. The broader community recognized black women are the building blocks to a winning coalition."
---
Thursday, May 24, 2018 12:00 AM
Melanie Campbell, CEO of The National Coalition on Black Civic Participation and convener of the Black Women's Roundtable (BWR) has been in Georgia partnering with a coalition of Black women-led organizations to activate the Unity '18 Power of the Sister Vote Campaign.

The Unity '18 Georgia Campaign focused on mobilizing some 100,000 Black women to vote in the Georgia primary in metro Atlanta, South Georgia and in more than a dozen counties. The NCBCP Unity '18 Georgia Campaign spearheaded robocalls from Black celebrities who included: Sheryl Lee Ralph, Judge Glenda Hatchett, Judge Penny Brown Reynolds, Susan L. Taylor and others for a digital social media campaign targeted to 50,000 plus Georgia households of Black women voters.